Marion Lane & the Deadly Rose
Book Two
World-Wide Edition. On Sale NOW
Marion Lane and the Deadly Rose is available in hardcover, E-Book and audio in the United States, Canada, U.K., South Africa, Malta and the rest of the Commonwealth.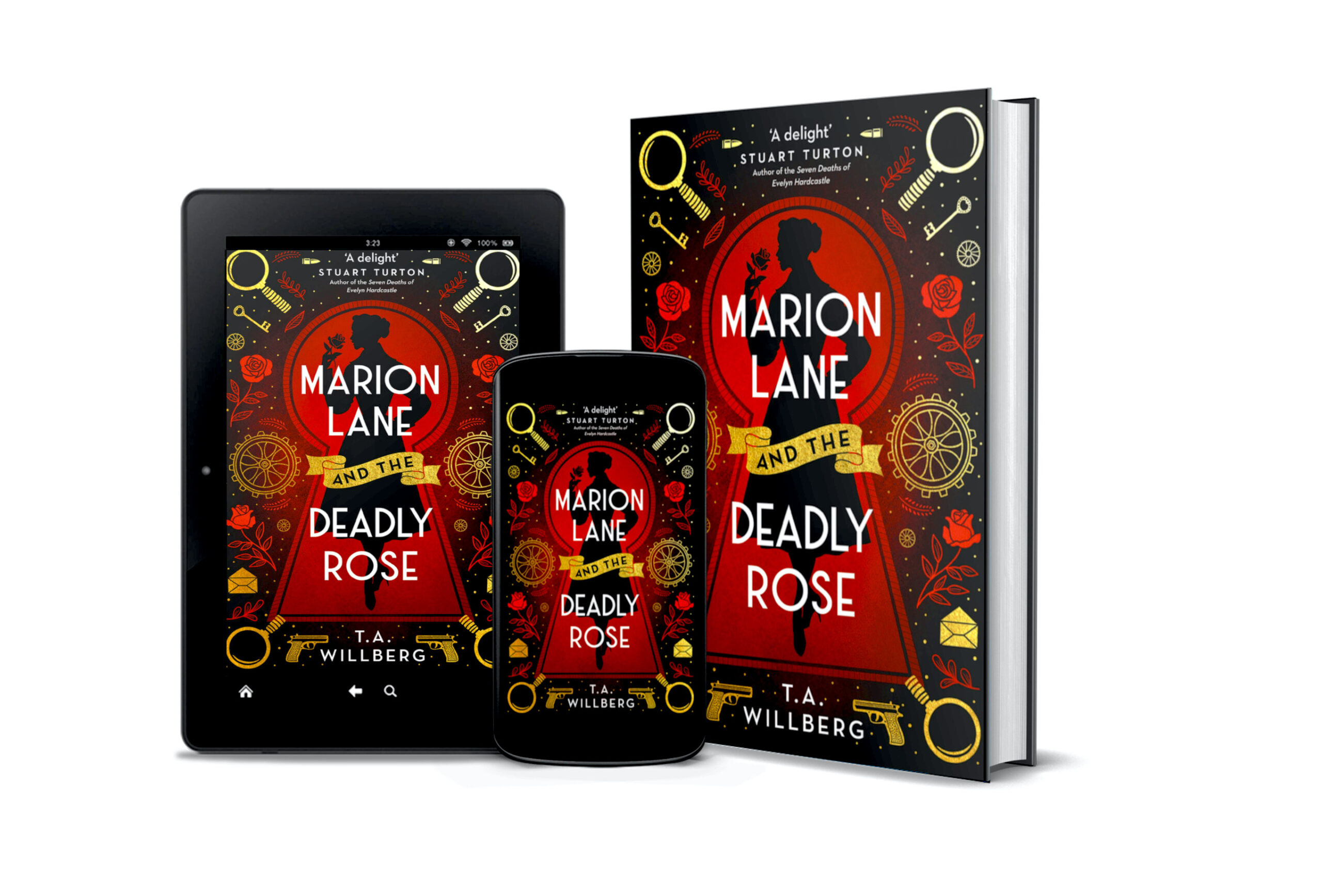 Download this free PDF character guide, written by T.A. Willberg, to use while reading The Deadly Rose. The guide contains a brief bio of each main character and a reminder of what they were up to in The Midnight Murder.
It's 1959 and a new killer haunts the streets of London, having baffled Scotland Yard.
The newspapers call him The Florist because of the rose he brands on his victims. The police have turned yet again to the Inquirers at Miss Brickett's for assistance, and second year Marion Lane is assigned the case. But she's already dealing with a mystery of her own, having received an unsigned letter warning her that one of the three new recruits should not be trusted. She dismisses the letter at first, focusing on The Florist case, but her informer seems to be one step ahead, predicting what will happen before it does. But when a fellow second-year Inquirer is murdered, Marion takes matters into her own hands and must come face-to-face with her informer—who predicted the murder—to find out everything they know. Until then, no one at Miss Brickett's is safe and everyone is a suspect.
With brilliant twists and endless suspense, all set within the dazzling walls and hidden passageways of Miss Brickett's, Marion Lane and the Deadly Rose is a deliciously fun new historical mystery you won't be able to put down.
What a delight... I found myself so drawn into this world of peculiar crimes that finishing the last page left me disoriented, requiring an extra beat to flash forward and rejoin the current century.
Sarah Weinman - THE NEW YORK TIMES BOOK REVIEW
MI6 meets Hogwarts School of Witchcraft in Willberg's fanciful sequel to 2020's Marion Lane and the Midnight Murder...Willberg's secret agency full of loners and outsiders who use quirky gadgets like the Liar's Eye and Spy Snakes is imaginative and fun. Lovers of mysteries with a dollop of magic will enjoy.