Marion Lane & the Midnight Murder
Book One
MARION LANE & the MIDNIGHT MURDER is the first instalment of The Marion Lane Mystery Series. It has been featured in The Sunday Times S.A., The Herald Scotland, The Witness, Fair Lady Magazine, Country Living, My Weekly, The Mirror, The Free Lance-Star, Bustle, BookRiot, E! News, PopSugar, CrimeReads and more. It was named a "Book of the Month" by LibraryReads, Strand Bookstore and Amazon and has already sold thousands of copies in the U.S.A. alone.
They were a band of mysterious private detectives who lived beneath the streets of London in a labyrinth of twisted tunnels and ancient hallways, the entrance to which no one had ever found. The Inquirers were something of a myth, a whispered legend that may or may not exist, depending on whom you asked…
MARION LANE & the MIDNIGHT MURDER plunges readers into the heart of 1950s London, to the secret tunnels that exist far beneath the city streets. There, a mysterious group of detectives recruited for Miss Brickett's Investigations & Inquiries use their cunning and gadgets to solve crimes that have stumped Scotland Yard. But nothing can prepare 23-year-old apprentice detective Marion Lane for what happens after the murder of fellow Miss Brickett's employee and filing assistant, Michelle White. When Marion's colleague is framed for the crime, to clear their name and find the true killer, she must sort through the hidden alliances at Miss Brickett's and secrets dating back to WWII.
Marion Lane and the Midnight Murder is the first installation in a fantastical historical mystery series, perfect for fans of Stuart Turton's The Seven Deaths of Evelyn Hardcastle and Natasha Pulley's The Watchmaker of Filigree Street.
U.K. & Commonwealth Edition
Published by Trapeze/Orion. Hardcover, E-Book and audio on sale NOW! Paperback available 6 January, 2022.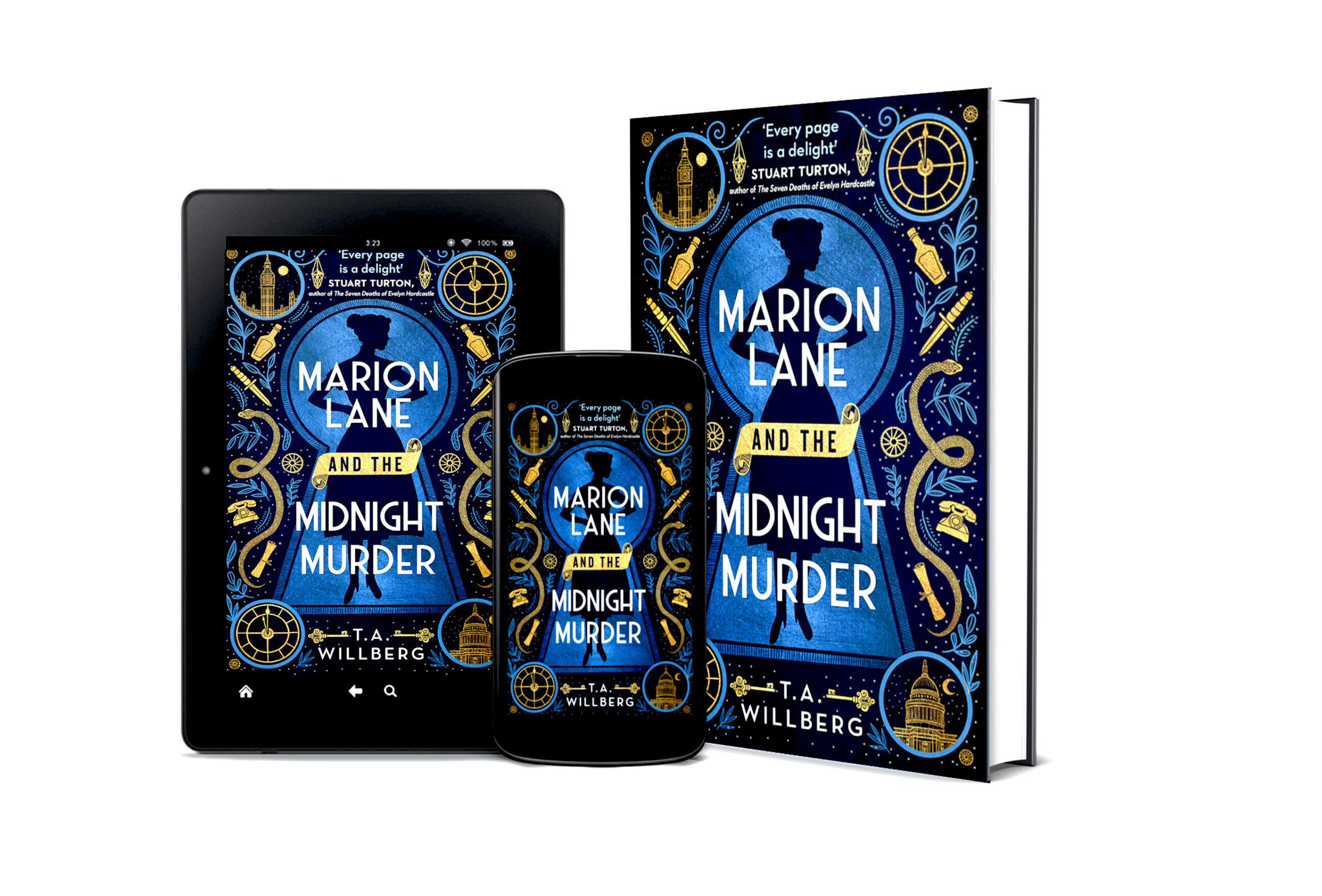 U.S. & Canadian Edition
Published by ParkRow/HarperCollins. On sale NOW! Hardcover, Ebook and audiobook versions available.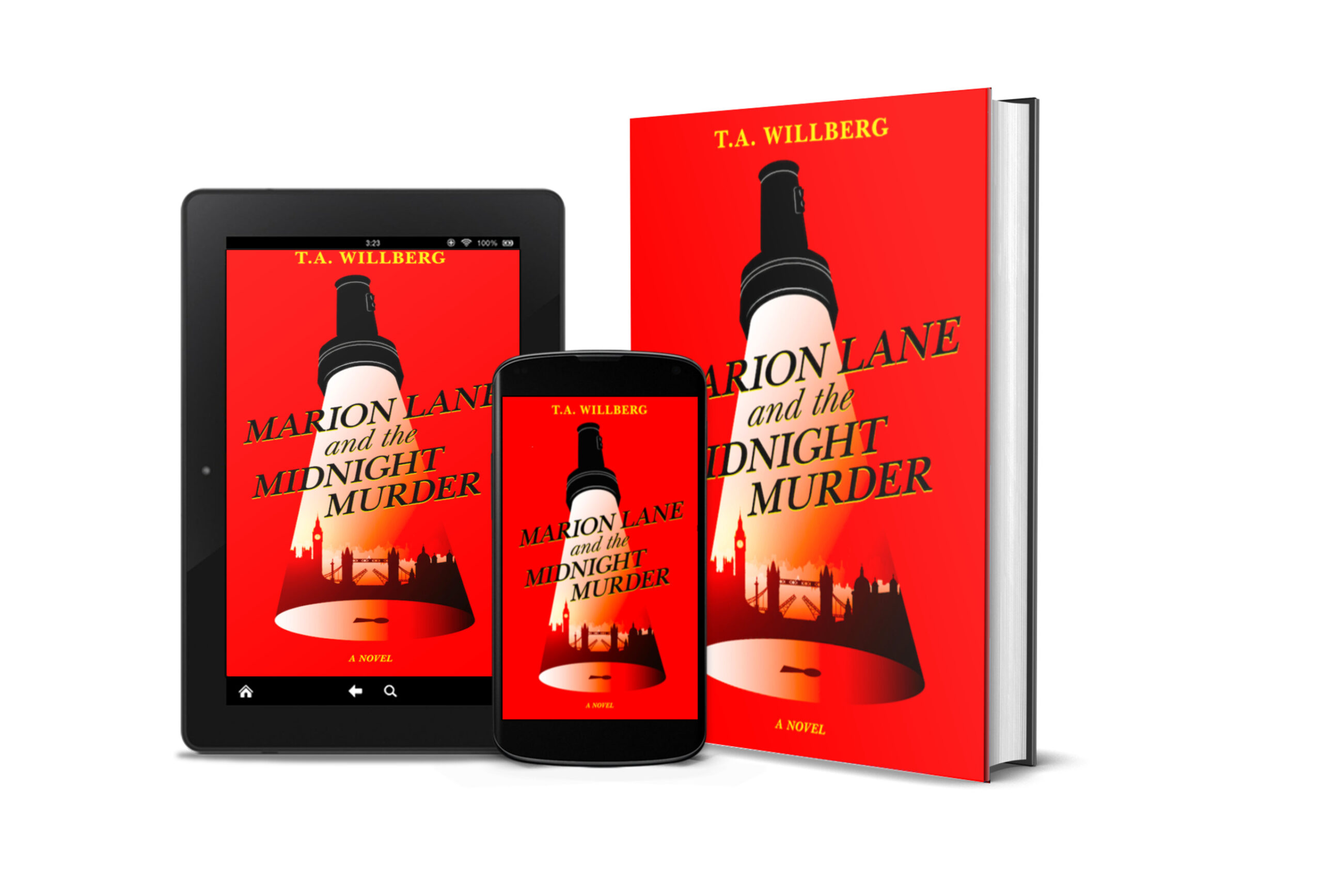 Turkey (Published by Eksik Parca)
"This is the most fun I've had with a book this year. Every page is a delight, the worldbuilding is wonderful, and the mystery got its hooks into me from the first chapter. This is what would happen if a trainee James Bond was asked to solve an Agatha Christie mystery, and it's brilliant.
– Stuart Turton, bestselling author of THE 7 1/2 DEATHS OF EVELYN HARDCASTLE
Marion Lane and the Midnight Murder reads like Harry Potter for adults—set in foggy 1950s London—with dashes of Kingsman and even a sprinkle of steampunk. Below an unassuming bookshop lies a secret, subterranean detective agency, stunned by a murder in its ranks. Atmospheric world-building, a satisfying locked room mystery, and brave detecting apprentice Marion Lane make this a delightful page-turner."
- Vannessa Cronin, AMAZON EDITOR
"Steampunk" brings us marvelous attire and decorations, but few crime novels. So this debut mystery from T. A. Willberg is a delicious surprise, full of inventive espionage devices, oddly purposed gadgets and clockwork, and a seriously underground London setting complete with crypts and tunnels featuring creepily active wall locations.
Beth Kanell, THE NEW YORK JOURNAL OF BOOKS
[An] assured debut…Willberg does an admirable job of worldbuilding, in particular Miss Brickett's, which exists in an underground labyrinth far beneath the streets of London.
A near-fantastical set-up, which just manages to stay on the James Bond rather than the Harry Potter side of the genre divide, drives a promising start to a fun series.
...The perfect start to [a] new fantastical murder mystery series.
MARION LANE AND THE MIDNIGHT MURDER crackles with invention and surprise—the wondrous gadgetry, the moody settings, the endearing heroine and the struggles she's endured—and Willberg weaves it all together around a perfectly puzzling locked-room whodunnit.
— Matthew Sullivan, author of MIDNIGHT AT THE BRIGHT IDEAS BOOKSTORE
A delightfully stylish romp through London's foggy streets and secret tunnels, complete with a tantalizing, steampunk-flavored mystery. Willberg has conjured a sharp-witted and sympathetic heroine, a worthy match for the sinister forces and shadowy organizations arrayed against her. Delicious fun!
— Helene Wecker, New York Times bestselling author of THE GOLEM AND THE JINNI
London is a character unto itself in T.A. Willberg's Marion Lane and the Midnight Murder.
...Reminded me of what makes a fine, readable, and memorable mystery novel and why I love the genre.
Through this secrective detective network, Willberg builds a fictional world that teems rivalries, crime, and intrigue.
— Jimmy Hoke, MYSTERY AND SUSPENSE MAGAZINE
A perfect cosy crime and locked-room whodunnit, you'll fall down the tunnels into a world of mystery.